Island Schools In Australia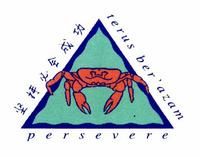 Australia is an island continent surrounded by 8,222 smaller islands.
Some islands are occupied only by birds and others have a small population where a school is of course an essential service needed on the island.
The children of these Island families are there for many different reasons. Perhaps their parents are working in Tourism on one of our beautiful Whitsunday Islands off the North Queensland Coast. Some children may have migrated with their families from our neighboring South East Asian countries to set up a new community, such as Christmas Island. However most of Australia's Islands have a continuous habitation by indigenous groups going back thousands and thousands of years. You can find people least affected by European Settlement on these remote Islands. Ancient cultures, language and values are being passed on to the children in traditional ways. You can also find communities fighting to survive on the fringes of Australian society.
Christmas Island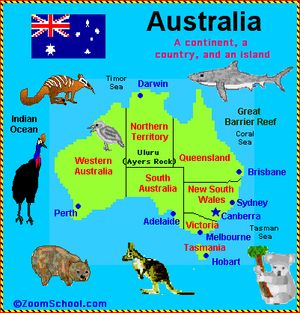 One of our most remote Island schools is Christmas Island School. Christmas Island is a small Island in the ocean 2,600 km northwest of Perth Western Australia, between Indonesia and Australia. Education on Christmas Island is organised by the Western Australian Department of Education. There are 1,400 people living on Christmas Island. The 350 students at this school are mainly of Chinese descent with some Malay and European. The Island's religion can be broken up as Buddhists 36%, Muslims 25%, and Christians 18%. This diverse backgound creates a very unique Australian School. The main languages are Mandarin and Cantonese, Malay and English as evident on the multi-lingual school logo. A curriculum that assumed similar cultural backgrounds, English as a first language and anglo-Saxon Cultural knowledge would fail these students immeasurably. Christmas Island District High School motto is to value, " ..cultural diversity, the inclusion of all individuals, the home languages of the Island …" This motto sets a great example for Australian schools to embrace difference.
An important change has recently happened on Christmas Island. The school has had eight new students in recent months. They arrived by boat as refugees. These are the first refugee children that have not been placed in detention centers on their arrival in Australia. The children and their families will be assessed by the immigration Department regarding their request for Refugee Status. Until that process is complete the children are living as part of the Christmas Island community and attending school. Prior to the election of the Labour government in 2007 and the ensuing change in our immigration policies, these children would have been imprisoned in a detention center for an indefinite period of time. Many Australians are relieved that this breach of Human Rights has finally been addressed.
Torres Strait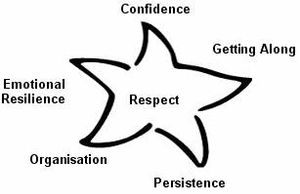 Unlike Christmas Island, which has no Indigenous inhabitants, the Islands North of Australia in the Torres Strait have continued inhabitation for generations. The Tagai State College proudly embraces their unique Torres Strait Island Identity with the vision to achieve a world-class standard of education. Since 2007, this remote group of schools has had access to world class technology with the installation of electronic white boards in all of their campuses. The teachers display a computer screen on the huge electronic whiteboard that acts as a touch screen for interactive learning. They are adjusting their teaching methods to make use of these valuable teaching tools.
History of exclusion
Until recent decades Indigenous Australians were largely excluded from the Education System. The exceptions to this were schools included those run by churches or 'coloured children schools', such as Thursday Island School. Literacy levels and motivation to pursue academic goals are very low in Aboriginal Communities. Improving educational outcomes for Indigenous children is now a high priority of the Australian Government.
The Thursday Island State High School was awarded 'The Australian' newspaper's School of the Year in 2003. This was a fantastic achievement for both the staff and the community, particularly in view of the history of this school. Until the 1960's, native Thursday Islanders were not allowed to attend the White School on the top of the hill. They were sent down the hill to the State School for Coloured Children.
The transition from an Apartheid community has taken many years of hard work. The School Principle, Tony Considine, was devoted to improving the educational outcomes for Aboriginal & Torres Strait Islander students. He wanted to address the problems of lack of engagement by students, issues the community had with the school, issues regarding staff and indigenous education, and teachers feeling empowered that they can make a difference.
The Principle first consulted the Community to understand what they valued about the Education System and their goal. This resulted in a list of things that needed more work or improvement. The result was an agreed goal: TO PROVIDE STUDENTS WITH CULTURALLY APPROPRIATE EDUCATION THAT EMBODIES THE KNOWLEDGE, SKILLS AND LITERACY PLATFORM TO FULFIL THEIR POTENTIAL AS GLOBAL CITIZENS. The process took years of work and the results are very specific to the needs of Thursday Island Community. One example of a strategy to improve Student Engagement was to make all assignment submission compulsory otherwise attendance at the Year 12 Formal would not be permitted. This strategy was a part of a complete plan to address disengagement. Another key strategy was to implement a year 8 and 9 literacy center. Students were grouped into ability levels based on their level of Australian English. Torres Strait Islander teachers switch between local languages and English to ensure students understood the instructions given. This approach stopped disengagement from happening when students' ability in Australian English was too high or low for their class. English Literacy has improved with this approach, as has student engagement and student retention rates into senior years. Each year a higher percentage of Students are staying on for Year 11 and 12 and getting TER scores high enough for University Entrance. The program has been successful and certainly contributed to the School being nominated as School of the Year in 2003.
Church/Mission schools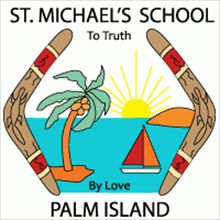 Church run schools are also dedicated to improving educational outcomes for indigenous students. St Michaels' Catholic School on Palm Island is off the coast of Townsville Queensland. The students at St Michael's are mainly from an Aboriginal descent. They have about 150 students between 4 and 13 years of age. The Sisters of Our Lady Help of Christians first established the school. They were replaced with the Franciscan Missionaries of Mary, who are still active on the island. The school was recently upgraded with new classrooms and an administration block.
They have designed a unique School Logo reflective of their community. There are two Boomerangs framing a Palm trees and a boat against a setting sun. The words "To Truth by Love" are reflective of the deeply spiritual nature of the Aboriginal people on Palm Island. The goal of the school is to 'meld and extend this spirituality with Catholic values, beliefs and spirituality.
The Palm Island Community has expressed that: 'The parents wish that their children be well educated so as to be able to obtain productive jobs with the ability to communicate with others and aspire for a better future.' The students speak Aboriginal English and need to learn Standard Australian English. Aboriginal English is, like all dialects, a constantly developing language. It is a combination of Standard English words spoken with a strong accent (so they may not be understood by English speakers), local Aboriginal words, and new words. It is the language spoken in the home of Palm Island families and is recognized as a dialect in that it is an effective form of communication between speakers. Standard Australian English is now taught in the same manner as ESL (English as a second language) subjects. This change in approach has improved education for Palm Island children.
The Cathy Freeman Foundation is offering an annual incentive to two outstanding young girls from St Michael's School. Their prize will be a tour of 7 days through Victoria, with the aim to, 'create confidence and make the kid's feel special'.
In summary, the Australian Education system has moved away from the mono-cultural to a diverse multicultural Education System that celebrates difference. Our Island Schools have been catalysts for this change.